---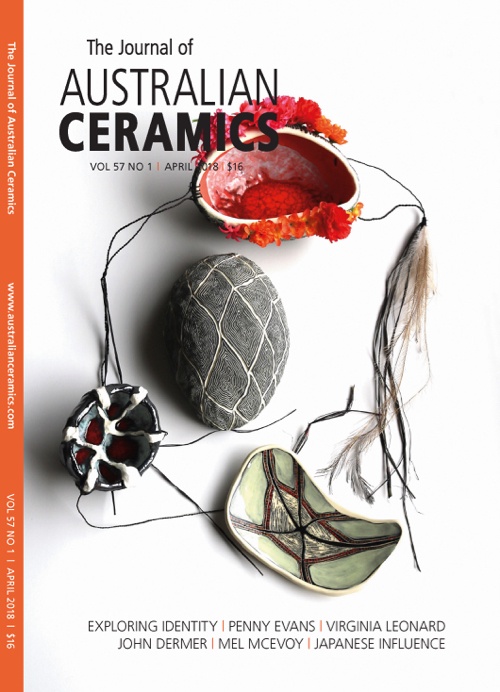 Volume 57, No 1 April 2018
---
The April 2018 issue of The Journal of Australian Ceramics includes articles on Exploring Identity, Penny Evans, Virginia Leonard, John Dermer, Mel McEvoy and Japanese Influence.
Journal cover image: Penny Evans, Arrangement – Waterhole Spirit (top), Gomeroi Yinarr (centre), Estuarine Creature (lower left), Spirit Dreaming Dish (lower right), 2018, pinched earthenware pots, sgraffito, glaze, underglaze, slip, pooling glazes, plastic flowers, emu feathers, raffia; photo: Penny Evans

Editor: Vicki Grima
Pages: 144
Dimensions: 17 x 24.5cm
The Journal of Australian Ceramics (JAC), Australia's most widely read tri-annual contemporary ceramics magazine, is a valuable resource for professional and amateur ceramicists, students, galleries, arts administrators, curators, buyers and passionate collectors.
Formerly known as Pottery in Australia (PIA), the magazine was first published in May 1962 (Vol 1, No 1). In 2012 JAC celebrated its 50th Anniversary. The Journal is a 128 page, full colour, contemporary ceramics journal.
It is available in both print and digital formats. Published three times per year, it contains artist profiles, commentary and critical essays, exhibition and book reviews, information on tertiary ceramic education, workshop reports, technical advice, suppliers, new products, exhibition and gallery listings.